Home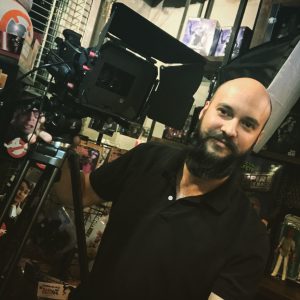 Greetings and Welcome!!
I'm Jack Venturo and I have been playing with my camera since I was 15. During high school, in Florida, I wrote and directed several films under my production company Moviegod Productions Entertainment (MPE).
One of my movies was played at an independent movie theatre to a sold out opening night in 2000.
I moved to California in 2001 and worked as a production assistant and temp until I made the short film "The Death of Tempo" (2010), which was a multiple award winner & nominee at two film festivals in California and London.
During pre production of my next project I realized I needed to switch gears and focus more on what I appreciated about production and film making versus just jumping into my next project. In 2013 I decided to revamp my production company, now Venturo Productions, and focus on writing more projects and smaller productions.
I currently have 36 projects in the works, ranging in genres and platforms including, children puppet shows, dramas, cartoons,  raunchy comedies and horror films.
Venturo Productions is here to serve as a portfolio of my work and to collectively work with other creative minds that were made for entertainment.
Venturo Productions also presents "The VP Movie Club" (A movie critique club on Facebook) so join the club and discuss the films you watch with other movie lovers and makers.
I will be uploading projects to this site as they are completed so keep in touch you never know what will pop up.