←
→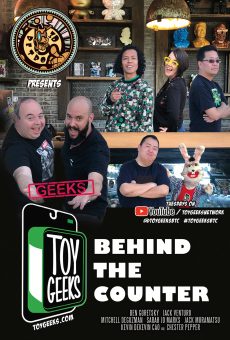 Toy Geeks: Behind The Counter
Release Date: 01/17/17
Genre: News/Media/Vlog/Comedy.
(Jack involved only with Season 1 Ep 1-44 & Season 2 Ep 1-14)
TRT: 30 Mins.
A group of toy enthusiasts unbox and review toys from around the world with the help of guest artists on a weekly basis from their favorite toy store 3DRetro in Glendale, CA.
Season 1 Trailer

The Show (Jack involved only with Season 1 Ep 1-44 & Season 2 Ep 1-14)

Hosts Season 1 (Ep 1-44)
Ben Goretsky
George Gaspar
Jack Venturo
Hosts Season 2 (Ep 1-14)
Ben Goretsky
Jack Venturo
Mitch DeGuzman
Sarah Jo Marks
Jack Muramatsu
(Season 1 Ep 1-44 & Season 2 Ep 1-14)
Director/Editor
Jack Venturo
Writers
Jack Venturo
Ben Goretsky
Executive Producer
Ben Goretsky
Producer
Jack Venturo
Lighting/Cinematography
Jack Venturo
Camera Operator
Kevin Cao (AKA DeKevin)
Sound Recording
Ben Goretsky
Puppeteer (Chester Pepper)
Jack Venturo
Puppet Builder
Noel Williams
Marketing/Social Media
Jack Venturo
Ben Goretsky