←
→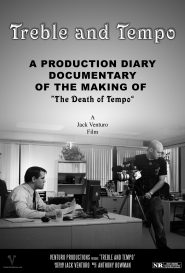 Treble and Tempo
Release Date: 07/31/20.
Genre: Documentary.
TRT: 1:14.
Rating: Not Rated.
A production diary documentary of the making of "The Death of Tempo" [2010]
Written and Directed by
Jack Venturo
Assistant Director and Director of Photography
Hali Bonvenuto
CAST (IN ORDER OF APPEARANCE)
JACK VENTURO
JUSTIN DUFFY
GEORGES GALLANDRE-LEBHAR
JASON DUNKMAN
DWIGHT BYNUM JR.
CHRIS PAGANO
LLOYD KAUFMAN
LOGAN MONHEIT
JACKSON DAVIS
SCOTT YOUNG
ROCCO SPINELLI
MATT WALLACE
JOSIAH D. LEE
CHRIS BRANDON
MATTHEW JAEGER
JESSE SCHOEM
JESSIE NOBILE
BEN WISE
EDWARD MARSHALL
KATLIN MILLER
JOSH COVITT
JON SHAW
ZAKIEL ISSAC
LUKE LODICO
ISSAC PHILLIPS
DAVID HAVERTY
EYDIE VENTURO
HALI BONVENUTO
ATHENA VENTURO
ISABELLA SEYMOUR
XOCHITL SEYMOUR
KELLIE GRIFFIN
LUZ MARIA RUIZ
SOLEDAD MARTINEZ
JENNIFER CURTIN
JOEY DUKEMINER
KELLY McCAFFERY
EMILY TALBERT
JIM GARCIA
RORY YORK
MEGAN POWERS
ISABEL MARTINEZ
DICK KANESHIRO
DANNY JAMES
CAMELLIA RAHBARY
BEN GORETSKY
JANINE JOHNSON
MEGAN FEELY
AMY LYNDON
BEN LAZARUS
ANTHONY BOWMAN
ANGELA MILLER
LAWRENCE MILLER
RUSSELL HAUSE
ERIK JONES
JUSTIN MONACO
JOSH STANTON
KITT TRAN
DAVIS OLÉ BARBER
KIERA FAYE
Executive Producer
JACK VENTURO
Assistant Director
Hali Bonvenuto
Director of Photography
HALI BONVENUTO
Additional Camera Operators
DAVID HAVERTY
EYDIE VENTURO
JACK VENTURO
RORY YORK
BEN GORETSKY
JOSEPH STRASSEL
Still Photographers
HALI BONVENUTO
EYDIE VENTURO
Music Composer
ANTHONY BOWMAN (ABSTRAKT SOUNDZ)
Title logo & animation
RADEK MICHALIK
Tempo's Posters
BARE KNUCKLES/ALISON RICHARDS
THE BAUVILLES/SHAWN KYLE
BEN LAZARUS/NUGGET STUDIO
CREEPVAN/SCOTT W. McKINLAY
DR. RAE C SEXOLOGIST
F-STOPS/ALISON RICHARDS
HOLLYWOOD2YOU.TV/JOHNNY REED
JENNY HENDRIX
NDURE/DANTE CAIN
LIISA LEE
MIDNIGHT REIGN/JOSEPH MICHAELS
MIKE KALOMBO
PANAMA DEAL/ALISON RICHARDS
RAWK DAWG
STELLAR ILLUSTRATION/J.R. DUFFY
TOMMI INFAMOUS/TOM WEEKS
VICTORIA FROST
SPECIAL THANKS
DAVID HAVERTY
for being the energetic windstorm that made the sails go.
ATHENA VENTURO
for lighting the spark.
EYDIE VENTURO
for guiding me along the way.
MY FAMILY AND FRIENDS
for the contribution, help, support and love.
"Treble and Tempo" (2020)
Produced and distributed by VENTURO PRODUCTIONS
VenturoProductions.com | #VenturoProductions