←
→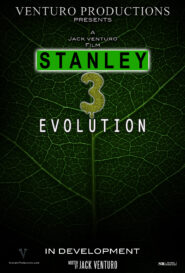 Stanley 3: Evolution
Completion Date: 08/17/22.
Genre: Comedy.
TRT: Short.
Pages: 25.
Status: Screenplay Completed.
Logline:
The conclusion to the Stanley Saga and the beginning to a new spinoff series starring the new and improved Stanley Merrick.
Synopsis:
Twenty four years after "Stanley 2: The Legacy" we find Stanley and Jack living alone and in search for a mystery man to help Stanley heal from his wounds. a new threat has presented itself and a new battle is fought for survival.
Written, Produced, and Directed
by Jack Venturo
Editor
Jack Venturo
Music
ANTHONY BOWMAN
KEVIN MACLEOD
JACK VENTURO
CAST
Jack Streeman JACK VENTURO
Father Hazzard DAVID HAVERTY
Thorton Muggins ROBERT WILKINS
Mateo Merrick JUSTIN DUFFY (Archive Footage)