←
→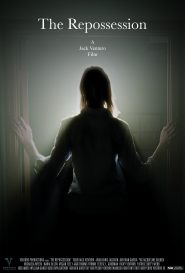 The Repossession
Status: Post Production
Release Date: October 2019.
Genre: Drama.
TRT: TBD
Logline:
A lost woman in an abandoned place tries to find her way home.
The Story:
Jack Venturo's 8th movie.
MORE COMING SOON
#TheRepossessionMovie
Written and Directed by
JACK VENTURO
CAST
Judy Whitaker MICHAELA MYERS
Alice Whitaker MARIA OLSEN
Valerie Whitaker MEGAN FEELY
Bartender STEVE MEIER
PRODUCTION
Producer
JACK VENTURO
Executive Producers
JAMES WILLIAM BAKER
KEVIN BATDORF
BEN GORETSKY
PEDRO VENTURO MARKOCH
TOM STOUT
PEDRO VENTURO JR.
Associate Producers
THOMAS FROMM
TERESE L. GOODMAN
RICKY VENTURO
PATRICE DUFFY WEBB
First Assistant Director MEGAN POWERS
First Assistant Director MATT SAMPERE
Casting Director JACK VENTURO
Casting Assistant EYDIE VENTURO
Casting Location JAMISON HAASE
Slate Operator XOCHITL SEYMOUR
Production Assistant JASON ELAURIA
Craft Services EYDIE VENTURO
AMBER FLANIGAN
CAMERA/GRIP
Director of Photography CHRIS JACKSON
First Assistant Camera KONRAD SEDOCHENKOFF
ALFRED KAHREH DAUGHERTY
Behind The Scenes Videographers SANO ELAURIA
ISABELLA SEYMOUR
EYDIE VENTURO
Still Photographer STEVE MEIER
SOUND
Music Composer IRAN GARCIA
Sound Mixer/Boom Operators ROBBIE PUGLIESE
ZACH LANDRENEAU
POST PRODUCTION
Editor JACK VENTURO
ART DEPARTMENT
Makeup/Hair Department JACQUELINE HOLDEN
Wardrobe MEGAN FEELY
JACK VENTURO
EYDIE VENTURO
Storyboards Artist JACK VENTURO
Title logo & animation RADEK MICHALIK
LOCATIONS
Location Managers DEVEN CHIERGHINO
KEVIN FOSTER
CICI FOSTER
Location Scout JACK VENTURO
Location Production Assistant JASON ELAURIA
Baby Wranglers ADRIEANNA RODGERS
RACHEL PICARD
RICK SOLANO
CONTRIBUTORS
BRANDEN AGUILERA
ZAYA AGUILERA
ZENA AGUILERA
JOSE AGUIRRE
AIMAN AKHTAR
DANIEL ALDERETTE
TONY AUGELLO
GRANT BACIOCCO
KAREN BAIL
BETHANY BOLES
ALEX BOYD
KELLY BOYD
NATHAN BOYD
ESTHER BOZARTH NELSON
SHANNON BUCCI
OLIVER CASTILLON
SARAH CAVAZOS
JULIE COOK
ISABELLA DA COSTA
LUCAS DA COSTA
TERESA DALSAGER
DASFRANK
IAN DAVIS
JESSICA DAVIS
JANNA DERHAMMER
JUSTIN DERHAMMER
VERONICA DICKERSON
PEDRO VENTURO DIEZ
ROMI DIEZ
STEVE DIRCKZE
JANINE DUFFY
MAEVE JEAN DUFFY
PAUL DUFFY
SHANNON DYE
ERICA ELMS
ED ERICKSON
TYLER ERICKSON
ZOEY ERICKSON
ALICIA FISHER
LINDSEY FLANAGAN
JIM FORMANEK
VICTORIA FROST
JIM GARCIA
MELANIE GARRISON
GEORGE GASPAR
MICHAEL GROWE
ADRIANNE HAWTHORNE
SARAH HAYES
NICHOLAS KILLEEN
REINA KOYANO
TROY KROTZ
TERUS KURURATTANAKORN
KELLIE MOORE LANCASTER
MARC LANIER
KATHY LEVY
VASILE BERDE LUCA STEFAN
ERIN MACBEAN
FRED MARINELLO
OSCAR MARKOCH
CHRISTINE MARTINEZ
ISABEL MARTINEZ
JAMES MASON
KYLE MAXWELL
MATTHEW McGUIGAN
BRENDA MEDINA
SHYLA NALANI MIELICH
ANGELA MILLER
DANIEL MOONASAR
JUAN MUNIZ
ERNIE ORNELOS
CHRIS PAGANO
JAMIE PERCZ
GLADYS PEREZ
LAURA PEREZ
RACHEL PICARD
VICTORIA PICARD
ETHAN PROCHNIK
BETHANY QUINN
ALISON RICHARDS
MANNY RIVAS
AYDREY RODRIGUEZ
JOHN RODRIGUEZ
TAYLER RODRIGUEZ
ANGELA RUDH
JOSH SCHWEITZER
ISABELLA SEYMOUR
SCOTT SEYMOUR
XOCHITL SEYMOUR
JAMES SIMISON
RICK SOLANO
VINCE SPINNATO
AMANDA STILES
JOY THRELKELD STRASSEL
DIANA STROHMEYER
ASHLEY SUE
JIM THORNTON
ALLAN TRAUTMAN
BRANDON WAITES
DON WERTZ
VANESSA WHITNEY
ADRIENNE WILSON