←
→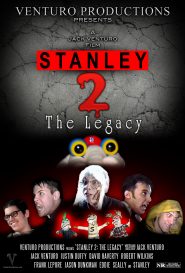 Stanley 2: The Legacy
Release Date: 02/13/99.
Genre: Comedy.
TRT: 47 Mins.
Suggested Rating: PG-13 (Not Rated)
Logline:
In the sewers of the city two new hatchlings are born. The crazy puppet hunter and a mysterious priest join forces to help stop the carnage.
The Story:
Jack Venturo's 2nd movie. Made when he was 17 years old. Sequel to "Natural Born Stanley" [1997]
"Stanley 2: The Legacy" was completed and released on February 13, 1999. It was filmed in St. Petersburg, FL and Brunswick, GA. In 1998. Production began immediately following the release of "Natural Born Stanley".
Jack would take VHS copies of "Natural Born Stanley" in his back pack to school and give it to friends and teachers. Some teachers even showed it in class. In the movie Stanley lays two eggs in the toilet. Everyone wanted to see them hatch and that is where the sequel comes in.
Jack designed and built the two puppet hatchlings Eddie and Seally and kept them secret until the movie was complete. He wrote the screenplay while in High School and cast his friends to play the parts.
The original camera that he used to make his first movie broke, so he saved some money and upgraded the old VHS system to a new Sony Handycam 8mm camcorder.
Jack called around and asked if the city would let him film in the sewers for the crucial beginning credit shots, for obvious safety reasons his requests were denied until his friend Jason Dunkman (Who plays Little Billy) stepped in. he knew how to get into a tunnel by his house. With this location set Jack knew he had to make this film.
The original movie was edited on two VCR's and Jack was never truly satisfied with the first cut.
A new edit was made in 2001. The Special Collector's Edition was shipped to a hand few of people but never truly released on the internet; it was not the best quality, and it was still in VHS.
In 2018 Jack decided it was time to go back to Stanley. He found all the original tapes and saved as many as possible from deterioration by digitizing them and preserving them in the computer. He began to re-edit it and re-record audio, fix tracks and add all new music and effects.
Some new scenes were filmed with the help of his kids to replace old puppet closeup scenes that were beyond repair and add new establishing shots to the edit to make the final cut cleaner and smoother.
Here now is "Stanley 2: The Legacy" The definitive edition; the new trailer, new bloopers & outtakes, and the Interviews hosted by Alex Anderson, filmed at AMC Theaters.
Jason Dunkman passed away in 2009, this movie is dedicated to him.
Written, Produced, and Directed
by Jack Venturo
CAST
Jack Streeman JACK VENTURO
Mateo Merrick JUSTIN DUFFY
Father Hazzard DAVID HAVERTY
Tootie FRANK LEPORE
Thorton Muggins ROBERT WILKINS
Little Billy JASON DUNKMAN
Kwasimodo Muggins JUSTIN DERHAMMER
Exclusive interviews filmed at AMC Theaters
Provided by ERNIE PARISE
Hosted by ALEX ANDERSON
STANLEY, SEALLY, & EDDIE
Created, Built, Voiced, and Performed by
JACK VENTURO
Additional Puppeteers
JUSTIN DUFFY
JASON DUNKMAN
Production
Executive Producer JACK VENTURO
Producers JACK VENTURO
JUSTIN DUFFY
Editor
JACK VENTURO
Sound Design
JACK VENTURO
Music
ANTHONY BOWMAN
KEVIN MACLEOD
JACK VENTURO
Trailer Voice Over
C. ALAN ROBINSON
Location Scouts
JASON DUNKMAN
JACK VENTURO
MARC LANIER
Vehicles/Transportation
JASON DUNKMAN
MARC LANIER
Camera Operators
JACK VENTURO
JUSTIN DUFFY
DAVID HAVERTY
ROBERT WILKINS
JASON DUNKMAN
Special Edition Extra Scenes Camera Operators
ISABELLA SEYMOUR
XOCHITL SEYMOUR
ATHENA VENTURO
VIVIAN VENTURO
Additional Puppeteer
ISABELLA SEYMOUR
Concept Art
JUSTIN DUFFY
Storyboards
JACK VENTURO
JUSTIN DUFFY
Makeup
DAVID HAVERTY
ROBERT WILKINS
JUSTIN DUFFY
JACK VENTURO
Egg Hatching/Stanley's Mother Effects
JACK VENTURO
Guns/Props
FRANK LEPORE
Costumes
SECOND IMAGE
Title logo & animation
RADEK MICHALIK
Contributors
SAM ANDERSON
STEPHEN BALL
MIKE BASS
KEVIN BATDORF
ELIZABETH BLACK
JENNI BLANCHARD
KERRY BLANK
CHRIS BROWN
DWIGHT BYNUM JR.
BONNIE DECAMP
JUSTIN DERHAMMER
SARAH EINGLEBRECHT
ED ERICKSON
RACHEL FIENMAN
DONNA FREDERICKSON
KELVIN FISHER
KRYSTAL GAUTHIER
SHERYL GOOD
ASAPH GRAHAM
DOUGLAS J. GREGORY
DONNA HAASE
MYRON HANSEN
JOSH JEWELL
CHRIS JORDAN
JUSTIN KALOMATE
KATHY KNAPP
SYBIL KRAUS
NIKKI LAINE
WAYNE LANEY
ANN LONG
LINDSEY LUXA
MARIAN MADUSHKI
LAWRENCE MILLER
DANIEL MOONASAR
SEAN O'REILLY
BECKY PELLETIER
CJ PISIECZKO
ERIC PRICHARD
BETHANY QUINN
CHARISE RECHNITZ
MELISSA RIVENBURGH
CHRISTOPHER ROTH
LAMONT RUSS
EDDIE STOVER
DESIREE TOOKER
JOYCE WALKER
SARAH WALTER
STEVE WEBBER
TOM WEEKS
JENNIFER WISINSKY
TEDDY YOUNG
DENNIS ZUERCHER
Special Thanks
MEL BROOKS for inspiring me & being my comedy godfather.
DAVID BEWLEY for teaching me that my art and my movies are a perfect marriage.
ERNIE PARISE for allowing us to film inside the AMC Theaters.
ST. PETE POLICE DEPARTMENT for letting us film and not shooting us.
GIBBS HIGH SCHOOL/PINELLAS COUNTY CENTER FOR THE ARTS for helping to shape me as an artist.
"Stanley 2: The Legacy" (1999)
Produced and distributed by VENTURO PRODUCTIONS