←
→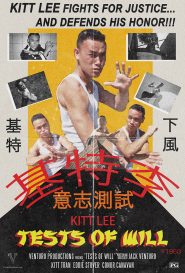 Tests of Will
Release Date: 06/22/00.
Genre: Action.
TRT: 3 Mins.
Suggested Rating: PG
Logline:
Kitt Lee fights for justice and defends his honor.
The Story:
The movie within the movie, short film created for "Lost in the Wilderness" (2000)
KITT LEE was an amazing kung fu action movie star who lived from 1940 to 1970.
His films include…
"Tests of Will" (1960)
"Dragon Rumble" (1961)
"Chops of the Dragon Pants" (1962)
"The Royal Rice Rampage" (1963)
"Downtown China Kick" (1964)
"Choptown City" (1965)
"Double Kitt WangChang" (1966)
"Kittball Fury" (1967)
"Eggroll of the Golden Fury" (1968)
"Drunken Fists" (1970)
Director
JACK VENTURO
Cast
Kitt Lee KITT TRAN
Kinjo Yeung EDDIE STOVER
Poo Ping CONOR CANAVAN
Fight Coordinators
KITT TRAN
EDDIE STOVER
Cinematography
JACK VENTURO
Editor
JACK VENTURO
Writers
JACK VENTURO
KITT TRAN
EDDIE STOVER
Producers
JACK VENTURO
JUSTIN DUFFY
KITT TRAN
GEORGES GALLANDRE-LEBHAR
EDDIE STOVER