←
→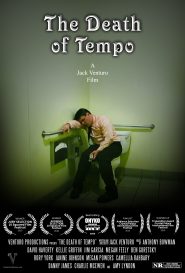 The Death of Tempo
Release Date: 01/01/10.
Genre: Drama.
TRT: 20 mins.
Suggested Rating: PG-13. (Not Rated)
Logline:
Mike was a carefree musician working at a taco stand. Losing his job forces him into a life of permanent temp work, self loathing and self-medicated depression.
The Story:
Jack Venturo's 5th movie.
After completing "The Shortest Day" (2003) Jack began working as a temp himself. He wrote "The Death of Tempo" while working as a temp.
Auditions were held in 2004 and an actor was found and Production began in 2005. The actor left the project after the first day of shooting due to scheduling conflict with another project.
Another actor was hired in 2006 and the same production day was filmed. That actor also left for personal family reasons.
jack put the project on hold and focused on other things for a while until a visit from High School friend David Haverty changed everything.
Tempo began production in 2008 with David and was released on January 1st, 2010.
This time around Jack wanted to make sure everyone knew the process of his filmmaking, his passion and his labor, so he documented every production day as a behind the scenes video diary.
The film was accepted into the Crystal Palace International Film Festival in London and got nominated as a finalist and a special transmitter award.
The movie was also accepted into the 10 Squared Film Festival in Fullerton, CA where it won:
1st Place Jury Award (Panel of judges included a film critic for the L.A Times)
Best Picture – 1st Place People's Choice (After watching all 10 films the audience chose the movie as their favorite)
Finalist (Nominated) Crystal Palace International Film Festival
Transmitter Award (Runner Up) Crystal Palace International Film Festival
The movie was filmed on a Canon XL1 Camera.
In 2018 Jack decided it was time to go back and restore the movie. He found all the original tapes and saved as many as possible from deterioration by digitizing them and preserving them in the computer. He began to re-edit using the original audio from the first export of the movie keeping the original director's cut intact, only changing a few scenes and takes.
Here now is "The Death of Tempo" The definitive edition full movie and the trailer, bloopers & outtakes, Behind the scenes documentary and more!
#TheDeathOfTempo
#VenturoProductions
"The Death of Tempo" [2010] is currently available on these platforms…
CAST
Mike Freeman/Tempo DAVID HAVERTY
Molly Fernandez KELLIE GRIFFIN
Tom Fernandez JIM GARCIA
Valerie Whitaker MEGAN FEELY
Mr. Robert Baker BEN GORETSKY
Dave Tanner RORY YORK
Jill Morris JANINE JOHNSON
Jennifer (Temp #1) CAMELLIA RAHBARY
Billy (Temp #2) DANNY JAMES
Heidi Reynolds AMY LYNDON
Rachel Striklan MEGAN POWERS
Security Guard #1 CHARLIE McEWEN
Security Guard #2 EDWARDO TUAZON
EXTRAS
HALI BONVENUTO
JENNIFER CURTIN
JOEY DUKEMINER
JAYME GARCIA
JAKE GARCIA
KELLY McCAFFERY
ANGELA PEEL
EMILY TALBERT
WILL VOLKMANN
PRODUCTION
Executive Producer JACK VENTURO
Producer JACK VENTURO
Associate Producers PEDRO VENTURO MARKOCH
TERESA DALSAGER
JEREMIAH SAYYS
RAFAEL BORGES
Cinematographer JACK VENTURO
Still Photographers HALI BONVENUTO
EYDIE VENTURO
Casting Director JACK VENTURO
Casting Assistant CHRIS PAGANO
Production Coordinator MEGAN POWERS
Production Assistants MEGAN POWERS
DICK KANESHIRO
HALI BONVENUTO
EYDIE VENTURO
JOSEPH STRASSEL
Behind the scenes camera operators HALI BONVENUTO
JACK VENTURO
EYDIE VENTURO
DAVID HAVERTY
RORY YORK
BEN GORETSKY
LOCATIONS
Location Scout JACK VENTURO
Temp Agency/Tingatech Offices LEAH ABIKZER
Calimex Restaurant LUZ MARIA RUIZ
SOLEDAD MARTINEZ
Tempo's House ISABEL MARTINEZ
Calimex Office JIM GARCIA
Office Hallway/Lobbies BEN GORETSKY
(USA ePay/3DRetro)
Deli DAVID HAVERTY
(APPLE TREE DELI)
LIGHTING/GRIP
Lighting Technician DAVID HAVERTY
Select Lighting CRECEDA LeMAIRE
(LAKAY STUDIOS)
Grips DAVID HAVERTY
MEGAN POWERS
DICK KANESHIRO
POST PRODUCTION
Editor JACK VENTURO
DVD Mastering DANIELLE WHITE
Post Production Consultants JOHN HOFIUS
CHRISTOPHER ROTH
DVD Consultant JASON SIADEK
SOUND
Composer ANTHONY BOWMAN
(ABSTRAKT SOUNDZ)
V/O Recording BEN LAZARUS
Sound Design JACK VENTURO
Trailer Voice Over (2019) C. ALAN ROBINSON
Trailer Voice Over (2010) BEN HURST
Boom Mic Operators DICK KANESHIRO
BEN GORETSKY
ART DEPARTMENT
Storyboards JACK VENTURO
Make up DAVID HAVERTY
Hair Dresser RORY YORK
Wardrobe JACK VENTURO
Title logo & animation (2019) RADEK MICHALIK
Title logo & animation (2010) JAMES DASTOLI
ROBERT DASTOLI
(DASTOLI DIGITAL)
Tempo's Posters BARE KNUCKLES/ALISON RICHARDS
THE BAUVILLES/SHAWN KYLE
BEN LAZARUS/NUGGET STUDIO
CREEPVAN/SCOTT W. McKINLAY
DR. RAE C SEXOLOGIST
F-STOPS/ALISON RICHARDS
HOLLYWOOD2YOU.TV/JOHNNY REED
JENNY HENDRIX
NDURE/DANTE CAIN
LIISA LEE
MIDNIGHT REIGN/JOSEPH MICHAELS
MIKE KALOMBO
PANAMA DEAL/ALISON RICHARDS
RAWK DAWG
STELLAR ILLUSTRATION/J.R. DUFFY
TOMMI INFAMOUS/TOM WEEKS
VICTORIA FROST
CONTRIBUTORS
LEAH ABIKZER
ALEX ANDERSON
KEVIN BATDORF
RAFAEL BORGES
DANTE CAIN
MARY CHARLTON
TERESA DALSAGER
RAWK DAWG
JUSTIN DUFFY
MAEVE JEAN DUFFY
VICTORIA FROST
GEORGES GALLANDRE-LEBHAR
PAUL J. GITSCHNER
BEN GORETSKY
JENNY HENDRIX
GABRIEL HERRERA
DANNY JAMES
DICK KANESHIRO
MIKE KALOMBO
SHAWN KYLE
LON LAWSON
BEN LAZARUS
LIISA LEE
PEDRO VENTURO MARKOCH
MOLLY McGEE
SCOTT McKINLAY
JOSEPH MICHAELS
MEGAN POWERS
DR. RAE. C.
JOHNNY REED
ALISON RICHARDS
JEREMIAH SAYYS
JOSEPH STRASSEL
JOY THRELKELD STRASSEL
TREE
MONI VENTURO
INGE WAGNER
TOM WEEKS
SPECIAL THANKS
STANLEY KUBRICK for being my guide, inspiration and filmmaking soulmate.
LEAH ABIKZER for being the most supportive employer a temp can ever get and for being so hospitable with your locations, this movie is what it is because of you.
DAVID HAVERTY for helping me get back on the horse on this project, your support meant everything to me.
In Memory of
Lawrence Miller
Filmed on location in Los Angeles, CA.
"The Death of Tempo" (2010)
Produced and distributed by VENTURO PRODUCTIONS