←
→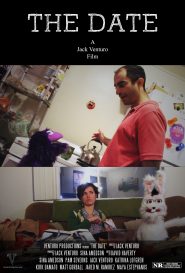 The Date
Release Date: 01/23/16.
Genre: Comedy.
TRT: 5 Mins 43 Seconds
Suggested Rating: PG (Not Rated)
Logline:
An average guy brings a girl home to his not so average apartment that is infested with puppets that hate him.
The Story:
Jack Venturo's 6th movie.
In 2015 I auditioned and was accepted by the Jim Henson Company to become an official Henson trained puppeteer. after the eight week program was over a few of us would continue to get together on a regular basis and keep practicing, playing and having fun with puppets, in January 2016 on my drive down to one of the last gatherings I came up with this little story, I presented it to the group and we filmed the whole thing on the spot, everyone improvised their own lines.
We had a bast doing it and it revived my love of fun for filmmaking. I haven't had this much fun just making a movie with friends in a long time.
Directed by
Jack Venturo
Written by
JACK VENTURO
SINA AMEDSON
KATRINA LOFGREN
KIRK DAMATO
MATT GORBALL
JARED M. RAMIREZ
MAYA ESTEPHANOS
PAM SEVERNS
Cinematography by
JACK VENTURO
KIRK DAMATO
JARED M. RAMIREZ
Edited by
DAVID HAVERTY
OddDog Pictures
Cast
(In order of appearance)
Mike Richards SINA AMEDSON
Lorraine Reynolds PAM SEVERNS
Chester Pepper (White Rabbit) JACK VENTURO
Francine (Blue Sloth) KATRINA LOFGREN
Yancy (Yellow Monster) KIRK DAMATO
Pascal (Raccoon) MATT GORBALL
Sprout (Green Monster) JARED M. RAMIREZ
Gilly (Yellow Girl) MAYA ESTEPHANOS
Murray (White Bunny) PAM SEVERNS
Zac (Purple Monster) SINA AMEDSON
Zac (Body Double) JARED M. RAMIREZ
Produced by
JACK VENTURO
SINA AMEDSON
Trailer Voice Over
C. ALAN ROBINSON
Location
SINA AMEDSON
Title logo & animation
RADEK MICHALIK
Title Music
ANTHONY BOWMAN
Puppet Builders
MATT GORBALL JOHN KENNEDY
JARED M. RAMIREZ PAM SEVERNS
NOEL WILLIAMS
Special Thanks
PATRICK BRISTOW - For being our Improv guru.
KEVIN CLASH - For the gift of our little monsters.
ALLAN TRAUTMAN - For teaching us the ways of the puppetry.
GIGI BEBAWI - For being the one that makes it all happen, a true fairie godmother to us all.
"The Date" (2016)
Produced and distributed by VENTURO PRODUCTIONS
In Association with The "Knuckle Brains" Puppetry Troope