←
→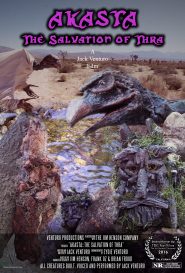 Akasta: The Salvation of Thra
Release Date: 05/02/16.
Genre: Fantasy.
TRT: 6 Mins 3 Seconds
Suggested Rating: PG. (Not Rated)
Logline:
Jack Venturo's 7th Movie.
Immediately following the trial by stone the banished Chamberlain meets Akasta, a creature that directs him toward his next course of action. (This short film acts as a deleted scene to the movie and takes place within "The Dark Crystal" movie)
The Story:
In 2015 The Jim Henson Company created a fan film competition for "The Dark Crystal" I heard about it a bit late and found out I only had one month to do it. I wrote it, built all the puppets, filmed and edited it in three weeks. 29 films were submitted, one grand prize winner was selected, five runner up films, Akasta was selected as the 2nd Runner up winner. The winning filmmakers were invited to The Jim Henson Company and the Creature Shop where they went on a special tour, meet and greet, screened all the films and a Q& A panel. "I love this film! I imagine it being shot out on the empty desert plain and by the stream in a forest glade. Wonderful puppets. The rock and the bark creatures are inventive and well performed. Their integration into the environment is very well done. Nice story with a clever twist at the end." – Cheryl Henson
The early version of the movie uploaded by The Jim Henson Company

Written and Directed by
Jack Venturo
Chamberlain, Akasta & Throngk
PUPPETS BUILT, PERFORMED & VOICED BY JACK VENTURO
Production
Executive Producer JACK VENTURO
Cinematographer EYDIE VENTURO
Editor JACK VENTURO
Trailer Voice Over C. ALAN ROBINSON
Title logo & animation RADEK MICHALIK
Special Edition Poster Design LACIE BARKER
Title Music ANTHONY BOWMAN
Poster Art & Design LACIE BARKER
Production Assistants ATHENA VENTURO
VIVIAN VENTURO
Special Thanks
HEATHER HENSON - For the opportunity to make this film a possibility and the beautiful compliments on this film.
GIGI BEBAWI - For her kindness, support and being the best movie fairy ever!
CELINE WILLARD - For organizing a great reception for our fan films.
BLANCA LISTA - For being a judge and selecting our film as a runner up.
BRIAN HENSON - For the kind words and great attitude towards our fan films.
LISA HENSON - For her show of support.
In memory of Jim Henson
"Akasta: The Salvation of Thra" (2016)
Produced by VENTURO PRODUCTIONS
Distributed by THE JIM HENSON COMPANY