←
→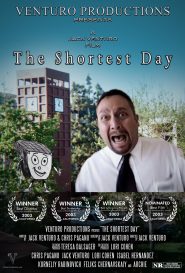 The Shortest Day
Release Date: 08/12/03.
Genre: Comedy/Musical.
TRT: 20 mins.
Suggested Rating: PG-13 (Not Rated)
Logline:
Chris is challenged with the craziest first day at work after forgetting all of the crucial training for his new job.
The Story:
Writer, Director Jack Venturo's fourth movie, made when he was 22 years old.
After completing his three first films in Florida, Jack moved to California in 2001. He struggled to find work until he began working as a leasing consultant in the office of the apartment community he was living.
A contest was held by the corporate headquarters to create a video for new employees. an entertaining, team building exercise that would showcase the fun and creativity of the staff and the company.
Jack wrote the story for The Shortest Day and collaborated with Chris Pagano on jokes and scenes, Chris wrote a final song for the movie.
When the movie was complete it was shown to the residents of the apartments in a special event/wrap party/premiere on August 12, 2003.
The movie was submitted to the Circle of Excellence Film Festival Awards and was the most nominated and most awarded movie. The awards ceremony was held at the Colony Theatre in Burbank, California. It was nominated for four Archie Awards, of which it won three:
Best Director – Jack Venturo
Best Screenplay – Jack Venturo
Best Actor – Chris Pagano
Best Film (Nominated)
Copies of the film on VHS and later DVD were handed out to residents, staff and sent to employees of the company.
The movie was filmed on a Sony Handycam 8mm camcorder.
In 2018 Jack decided it was time to go back and restore the movie. He found all the original tapes and saved as many as possible from deterioration by digitizing them and preserving them in the computer. He began to re-edit it and re-record audio, fix tracks and add all new music and effects.
Here now is "The Shortest Day" The definitive edition; the new trailer, and new bloopers & outtakes.