←
→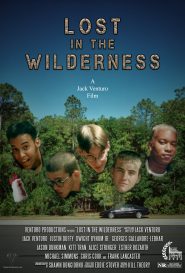 Lost in the Wilderness
Release Date: 06/22/00.
Genre: Comedy.
TRT: 1 hr 17 mins.
Suggested Rating: PG-13 (Not Rated)
Logline:
Five friends run out of gas on their way to the movies, they take a short cut through the woods and wind up lost for months.
The Story:
Jack Venturo's 3rd movie. Made when he was 18 years old.
When "Star Wars: Episode I – The Phantom Menace" was released on May 19, 1999. Jack and his friend Justin Duffy saw all six showings the first day. They joked for months prior to the premiere and hoped nothing would happen to them that could make them miss the movie.
Jack started writing funny scenarios and soon completed the first draft of the screenplay that would become "Lost in the Wilderness".  Jack wrote parts for his friends, bought some new equipment, called around about locations and even made a deal with the local independent movie theatre to show the movie for one night.
The movie was made in three months and it premiered on June 22, 2000 at the St. Pete Beach theatre.
The premiere was a sold out event, resale ticket holders received free autographed pictures of the cast at the box office, bracelets were sold and a photo album of the behind the scenes photos was on display in the lobby.
KILL THEORY the band that created all the original songs for the movie played live on stage before the movie started.
The movie was filmed on a Sony Handycam 8mm camcorder. the original edit of the movie was in very low quality and only existed on VHS.
A new edit was made in 2001. The Special Collector's Edition was shipped to a hand few of people but never truly released on the internet; it was still not the best quality.
A few copies of the VHS were exported to DVD and sent to the cast and crew, this was still a rip from the VHS export.
In 2018 Jack decided it was time to go back to the wilderness. He found all the original tapes and saved as many as possible from deterioration by digitizing them and preserving them in the computer. He began to re-edit it and re-record audio, fix tracks and add all new music and effects.
Some new scenes were filmed with the help of his friends to make the final cut cleaner and smoother.
Here now is "Lost in the Wilderness" The definitive edition; the new trailer, new bloopers & outtakes, the fictional movie within the movie "Tests of Will" (1960), The new remastered News Clip, and "Behind the Wilderness" (2018) a brand new making of production diary documentary featuring never before scene footage.
Justin Duffy passed away in 2017, this movie is dedicated to him.
---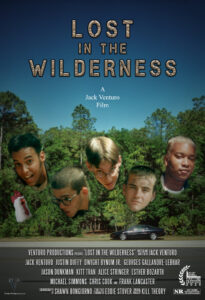 "Lost in the Wilderness" [2000] is currently available on this platform…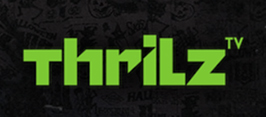 Written and Directed by
JACK VENTURO
The Cast
Jack JACK VENTURO
Justin JUSTIN DUFFY
Dwight DWIGHT BYNUM JR.
Georges GEORGES GALLANDRE-LEBHAR
Jason JASON DUNKMAN
Kitt Lee KITT TRAN
Woodgirl ALICE STRINGER
Nurse Cindy Bay ESTHER BOZARTH
Dr. Richard Claxton MICHAEL SIMMONS
Big Jason CHRIS COOK
Hunter Lenny Firestone FRANK LANCASTER
The Movie Theater Manager FRANK DISHAROON
The McDonalds Kid STEPHEN BALL
Klansman JACK VENTURO
Klansman V/O COLIN HOFFMAN
Georges' Dad V/O RICHARD D. FISHER JR.
Jason's Mom V/O KELLIE MOORE LANCASTER
Newscaster V/O JENNIFER BUTTEL
Trailer V/O C. ALAN ROBINSON
The Newspaper Guy GUTHRIE "GUS KENTUCKY" FEEEMAN
Jester on TV TOM WEEKS
Georges' Ex Girlfriend (Deleted Scene) KIM LAMBERT
The Barber CHARLIE
The Hotdog Guy JOHNNIE
The Carwash Guy TYRONE
Cueball The Dog HERSELF
STANLEY (The Puppet)
Created, Built, Voiced, and Performed by
JACK VENTURO
Production
Executive Producer JACK VENTURO
Producers JACK VENTURO
JUSTIN DUFFY
Associate Producer RICHARD HUGHES
Editor JACK VENTURO
Editor (2000 Theatrical Release) FRANK J. MONTELEONE II
Sound Design JACK VENTURO
Cinematographer SHAWN BONGIORNO
Camera Operators JACK VENTURO
BOE NORWOOD
GEORGES GALLANDRE-LEBHAR
JASON DUNKMAN
Additional Footage FRANK J. MONTELEONE II
DAVID HAVERTY
KITT TRAN
Glidecam Operators SHAWN BONGIORNO
JACK VENTURO
Set Photographers BONNIE DECAMP
BETHANY QUINN
JASON ELAURIA
Projectionist JEREMY HUMMER
Photographic Consultant LAWRENCE MILLER
Fight Coordinator EDDIE STOVER
Stunt Performers EDDIE STOVER
KITT TRAN
CONOR CANAVAN
GEORGES GALLANDRE-LEBHAR
Locations JACK VENTURO
JUSTIN DUFFY
CHRISTINE CAVANA
FRANK DISHAROON
JASON ELAURIA
Production Assistants BETHANY QUINN
TOM WEEKS
JENNIFER WISINSKI
JASON ELAURIA
Assistant to Mr. Venturo BETHANY QUINN
"Tests of Will" (1960)
(Kitt Lee Movie)
Cast
Kitt Lee KITT TRAN
Kinjo Yeung EDDIE STOVER
Poo Ping CONOR CANAVAN
Fight Coordinators KITT TRAN
EDDIE STOVER
Director JACK VENTURO
Cinematography JACK VENTURO
Editor JACK VENTURO
Writers JACK VENTURO
KITT TRAN
EDDIE STOVER
Producers JACK VENTURO
JUSTIN DUFFY
KITT TRAN
GEORGES GALLANDRE-LEBHAR
EDDIE STOVER
Art Department
Conceptual Illustrator JUSTIN DUFFY
Storyboard Artists JUSTIN DUFFY
JACK VENTURO
Title logo & animation RADEK MICHALIK
Printing & Graphics supervisor DONNA HASSE
Makeup ALICE STRINGER
ESTHER BOZARTH
Wardrobe JACK VENTURO
ALICE STRINGER
DWIGHT BYNUM JR.
ESTHER BOZARTH
JUSTIN DUFFY
GEORGES GALLANDRE-LEBHAR
NICHOLAS FRANKLIN
Special Effects
Lightsaber effects LACIE BARKER
Chicken puppet design JACK VENTURO
JUSTIN DUFFY
Chicken sculptor JACK VENTURO
Chicken mold shop supervisors ALAN JOHNSON
LAWRENCE MILLER
Chicken puppeteer JACK VENTURO
Chicken pyrotechnics MIKE BASS
DEBBIE BLACKCAT
Safety supervisor BETHANY QUINN
Music
Original Songs by KILL THEORY
Vocals JOSH STANTON
Drums ERIK JONES
Lead Guitar RUSSELL HAUSE
Bass Guitar JUSTIN MONACO
"Ballad of the Wilderness" "Contained"
"Crimes Against Humanity" "Hollow's Eve"
"Instrumentals" "Live a Lie"
"Opener" "Recognition"
Additional Music
KEVIN MACLEOD
"Aggressor" "Asian Drums"
"Chase" "Clash Defiant"
"Cool Rock" "Corncob"
"Crossing the Chasm" "Eternal Terminal"
"Ever Mindful "Fanfare for Space"
"Final Battle of the Dark Wizards" "Hall of the Mountain King"
"Hero Down" "March of the Spoons"
"Urban Gauntlet" "Winner Winner"
Additional Music
SEAN HOLT
"Come Back" "Flight"
"Prison Camp"
Music Editor
JACK VENTURO
Contributors
LISA ALBAN
KEVIN BATDORF
KERRY BLANK
RACHEL HOPE BLATT
GALI BUTLER
REBECCA CHICCO
JOHN CONTARIO
DAN COOK
KEN CORELY
ED ERICKSON
JAKE ERIKSEN
MINA LEE FISHER
JAQUELYN FLYN
JAIME GANOTE
MELANIE GARRISON
ASHLEY GORDANIER
MICHAEL GROWE
ADRIENNE HATHAWAY
DAVID HAVERTY
DAVID HIGGINS
RICHARD HUGHES
JEREMY HUMMER
REBECCA INGRAM
MEGHAN JEMISON
CHRIS JORDAN
KATHY KNAPP
MONICA KRIZEN
BRUCE LANGARIE
LON LAWSON
WENDY LAWSON
FRANK LEPORE
LUKE MCEACHRON
KERRY MCNALLY
CARLY MEEK
TIM METTLER
ANGELA MILLER
LAWRENCE MILLER
FRANK J. MONTELEONE II
TODD OSBORNE
ERICA PORCH
SANDY RAYBORN
ANTHONY RECKART
JEAN ROBINSON
MICHELE MYRICK ROPER
CHRIS ROTH
MARIA SCHANG
PERRY SLATER
EDWARD STOVER
JULIE A. STOVER
JANE TENNYSON
KITT TRAN
TREE
TOM WEEKS
STEPHEN WELLER
STEPHANIE WILKINSON
JENNIFER WISINSKI
Special Thanks
GEORGE LUCAS for being the great creator he is.
KEVIN SMITH for paving the way.
RICHARD HUGHES for making my first movie premiere possible at the Film Paradiso St. Pete Beach Theatre on June 22, 2000.
JEREMY HUMMER for the support and running the projector at the premiere.
MICHAEL SIMMONS for playing the doctor in the movie and being a fun and dedicated teacher.
FRANK J. MONTELEONE II for helping me edit the original cut of the movie.
GIBBS HIGH SCHOOL/PINELLAS COUNTY CENTER FOR THE ARTS for helping to shape me as an artist.
AMC THEATERS for being so generous and supporting a young filmmaker like myself.
THE CONTRIBUTORS for your support, donations and motivation, you helped make this movie possible.
ST. PETE FIRE DEPARTMENT/U.S. ARMY/ST. PETE POLICE DEPARTMENT for being supportive with all of my productions in Florida especially this one for helping us relocate and find the woods that were not on fire.
No animals were harmed in the making of this motion picture.
Filmed on location in St. Petersburg, FL with additional scenes in Palmdale, CA.
"Lost in the Wilderness" (2000)
Produced and distributed by VENTURO PRODUCTIONS